Every product category has them: well-established brands with the largest market share, dominating the category for years while small brands compete against them.

People always think that brands with big market shares have a higher number of loyal customers than brands with small market shares. But this isn't true.


The majority of consumers aren't loyal customers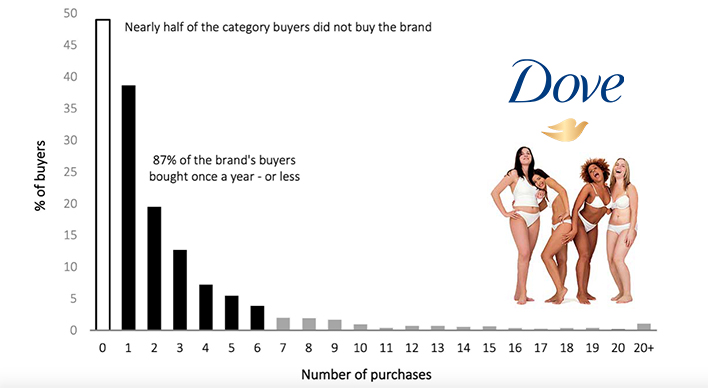 Byron Sharp, professor of marketing sciences, looked at how often consumers bought a product from the same brand. He chose to observe the brand Dove, a brand with a big market share, and the results were surprising.

He had expected that the majority of consumers would be loyal customers, but the opposite was true.

A surprising 87% of all Dove shoppers bought Dove products once a year at most (see above). The majority of these 87% of Dove shoppers chose Dove only 1-3 times in 6 years(!). Sharp also found that half of the consumers within the product category didn't even choose Dove.

The same study showed that this effect was even more extreme for smaller brands, where 93% of the smaller brands' consumers chose the brand only once a year. Thus, consumers of smaller brands are even less loyal.

Compared to smaller brands, the biggest brands typically have many more customers, who also buy the brand more often. This is called "Double Jeopardy". It's such a strong effect that Byron Sharp considers it a law.
Increase your market share: focus your communication on light users
This study shows that the biggest growth potential lies with consumers who rarely buys the product, also called "light-users". The growth in loyal customers (also called "heavy-users") is already saturated.

Essentially, the number of "heavy users" is relatively small compared to the number of "light users". Therefore, you should focus communication on a wide audience, and not on loyal customers (i.e. heavy users).

This way, you can reach as many light users as possible - also increasing the users awareness of your brand. This is certainly a worthwhile challenge, since light-users don't focus on a single brand. Learnings 8, 9 and 10 has further tips on how to "remind" consumers of your brand.