Memory structures help consumers recognise your brand quickly
An important goal of branding is to build memory structures to help consumers think of your brand quickly. The purpose of these structures is also to ensure quick recognition of your brand, especially when consumers are considering a purchase.

The importance of memory structures can be demonstrated by a case study on Tropica, a well-known orange juice brand.


How Tropicana lost $30 million because of its new packaging
On January 8th, 2009, Tropicana launched a new packaging for its best-selling product in the US (revenue: $700 million a year). A remarkable amount of $35 million was spent on an advertising campaign.

Less than two months after the campaign, sales had dropped by almost 20%, amounting to a loss of almost $30 million. Consequently, Tropicana's marketers reverted back to the old package.

It's clear something was off with the new packaging, but what?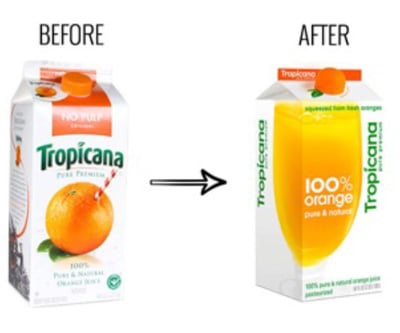 Never (abruptly) change your most important brand cues
If you observe the old and new packages above, you can probably guess the reason for Tropicana's sales loss.

The original packaging has some distinguishing 'brand cues': visual elements that help consumers to recognise the Tropicana brand. These visual elements include the distinctive Tropicana logo and the visual of an orange with a straw. These visual elements ensure that the product and the brand can be easily recognised in the supermarket.

With the new packaging, one of the most important brand cues has changed: Tropicana's logo. Additionally, the other important brand cue (the visual of the orange with a straw) has disappeared completely. The new visual is an indistinctive glass of orange juice.

The new packaging makes it difficult for the buyer to quickly recognise and find the brand/product, leading to disastrous consequences for Tropicana.

The important takeaway here: make sure your brand can be easily recognised (and remains so) with distinctive brand cues. When your brand can be easily recognised, you make it easy for consumers to find and buy your products - a prerequisite for buying behaviour.
Advertising reinforces brand cues and creates memory structures
An important goal of advertising is to reinforce brand cues in the consumers' brain. One way to do this it to make sure your brand cue is included in all communications. By repeatedly exposing consumers to your brand cues, you build memory structures which help consumers easily recognise your brand in buying situations.

A good example of a strong brand cue is a bunny. A pink bunny.
Duracell vs. Energizer: the pink bunny battle

Duracell began advertising with the pink bunny in the early 1970s. Until today, this distinctive brand cue is still visible in all of Duracell's communications with consumers. The pink bunny is also on the packaging, making it easy for consumers to recognise the brand.

In the late 1980s, Energizer, a competitor in the US, decided to copy it. They too started using a pink bunny in an attempt to steal Duracell's customers. Energizer spent a lot of money on advertising, but forgot to include the bunny on their packaging.

In the following years, Energizer's market share decrease; on the other hand, Duracell's market share increased. Duracell's strong brand cue was 'energised' by Energizer's ads.

Fortunately, Energizer eventually realised the problem and placed the bunny on its packaging, resulting in a swift increase in market share.
Advice
Don't forget to include the important brand cues to ensure quick and easy recognition of your brand. Or else you might be inadvertently advertising for a competitor.