"Neuroscience gave us new insights that we couldn't get with questionnaires. This gave us the tools to make our ads more effective." Sandór van Mil, Marketing manager, Bolletje, fall 2019
Bolletje research question
Bolletje made two ads following the same concept. Here's the concept:

A woman asks a baker from Bolletje if the baker can make her something and the baker responds. Next, ad viewers see the baker hard at work and the woman who is satisfied with the product.

The sales results revealed that one ad performed 250% better than the other.

According to a study using questionnaires (carried out by another market research company), both ads scored equally high on recognition, brand linkage, message transfer and final score. Check out the results of this questionnaire below.

"How could the 250% difference in sales figures be explained?" Bolletje asked Neurensics.

To make this more challenging, Bolletje didn't reveal which ad performed better. We had to discover it ourselves.
How were the ads studied?
Test participants looked at both ads in the MRI. 13 emotions and factors relevant for consumer behaviours were measured, such as Desire, Trust and Attention.

The activated emotions and factors were compared to the established benchmark for Effective, Likeable and Annoying ads.

Crucially, we observe that an effective ad needs to have the right balance of positive and negative emotions, where the positive emotions eventually dominate.

Eye Tracking and Brain Guided Interpretation were also used:


Eye Tracking:
While participants watched the ads in the MRI, their eye movements were tracked. The data obtained informed us which elements drew their attention and which don't.

Brain Guided Interpretation (BGI):
In a follow-up study, BGI (online questionnaires) was used to discover why certain parts of the ads activate specific emotions.

Participants were also asked to think about why others would react this way. This typically yields better answers than self-observation. The combined usage of fMRI and questionnaires (BGI) provides valuable and complete results.


Results
Scores on the 13 emotions and factors



On the spider plot, we immediately notice that Skinny Jeans (green line) scored better than Aqua Yoga (grey line).
Skinny Jeans activated more Expectation and Attention, while it scored average on negative emotions (highlighted in red).

In contrast, Aqua Yoga scored highly on the negative emotions, especially on Disgust and Danger.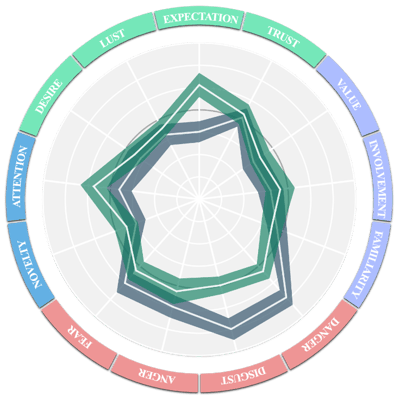 The dotted circular line (see for example Expectation) is the reaction to the average TV commercial.
Skinny Jeans has 2.6x higher correlation for Effectiveness as compared to Aqua Yoga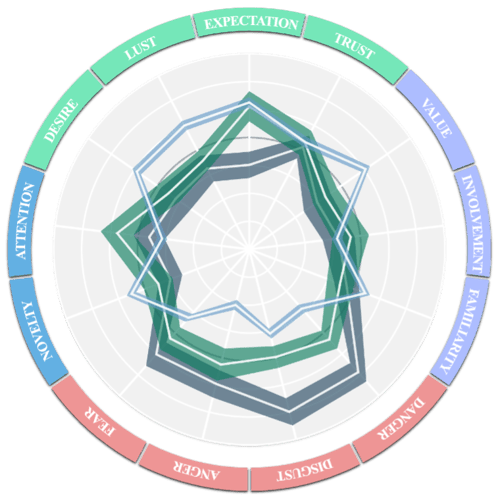 Effective ads which influence consumer behaviour have a unique profile (see light blue line). Skinny Jeans (green line) is more in line with this profile compared to Aqua Yoga (grey line):
Skinny Jeans activated stronger positive emotions, especially Expectation.


Skinny Jeans activated fewer negative emotions, such as Disgust and Danger.


There is a slightly higher activation of Novelty (surprise) and Value (reward and added value) for Skinny Jeans. Both factors are also activated by effective ads.

After obtaining the activation profiles for the ads, we used a Benchmark Similarity analysis to calculate the correlation between the activation profile from each ad and the target pattern Effectivity.

Skinny Jeans had a correlation factor which was 2.6x higher than Aqua Yoga. Close to the exact difference in sales figures from Bolletje!
Why is Skinny Jeans more effective than Aqua Yoga?

Using Eye Tracking, fMRI timelines and Brain Guided Interpretation (online questionnaires), we analysed the scenes in detail to discover why and how the ads evoked different emotional responses:
The setting of yoga at a pool fits less well with breakfast than the setting of someone getting dressed for the day.


The humour in Aqua Yoga is too distracting.

Aqua Yoga featured humour based on glee (laughing at the expense of others, such as the person who falls into the water). Generally, we find it amusing to watch. However, this also activates negative emotions like Fear, Danger or Disgust.

While Humour engages people and makes a well remembered ad, it can be too distracting. It distracts away from consumers' purchase intentions. Additionally, time spent on Humour will be at the expense of important buying emotions such as Desire, Expectation, Trust or Value.


The timing of the moment the main character enjoying a Bolletje breakfast product. The moment of enjoyment is crucial for triggering reward (Value): if you see someone enjoying something, you would also enjoy the moment. This moment must be included in the storyline in a natural way.
Most important key take-aways:
fMRI study accurately predicts behaviour: Skinny Jeans is more effective than Aqua Yoga
Despite having the same concept, Skinny Jeans scored better on positive emotions and lower on negative emotions, as compared to Aqua Yoga.

Skinny Jeans has a correlation with Effectivity which was 2.6x stronger than for Aqua Yoga, close to the exact sales difference Bolletje observed. Notably, MRI research gives better insights into advertising effects than traditional research.

Traditional questionnaire studies are poor at predicting the effectiveness of advertising, because people aren't really aware of the unconscious effects they experienced.




And now you:

Do you want to know why some of your ads work better than others?
Or, do you have doubts about the effectiveness of your ads?
Please contact us to discuss your research possibilities.