"Together with Neurensics we've investigated which (un)conscious motives lie inside people who never switch energy suppliers. The implicit association study yielded valuable insights into the factors that make behavioural change possible. This resulted in a successful campaign by iChoosr and Vereniging Eigen Huis." Matthijs van Waveren, International Marketing Manager iChoosr
How to wake 'sleepers' towards switching energy suppliers?

Background
iChoosr an independent organiser of group-buying schemes. Their schemes center around Collective Energy Switching and Group-buying for solar panels which enables members to save a considerable amount of money on energy consumption. This is accomplished by purchasing energy from a supplier in bulk (i.e. for a large group). At the end of the year, members can decide on whether to switch to the selected supplier.

Did you know that switching energy supplier annually saves you money? Many people are aware of this fact, but nevertheless stay with their current supplier (these people are nicknamed 'sleepers'). iChoosr wondered why sleepers remain sleeping, and observed the barriers to switching.


iChoosr's research question:
What do switchers (un)consciously associate with switching and how do these associations differ from the sleepers'?

Which associations should communication focus on in order to convince sleepers to switch energy suppliers?


How it's studied
RIAT: Answering questions under time pressure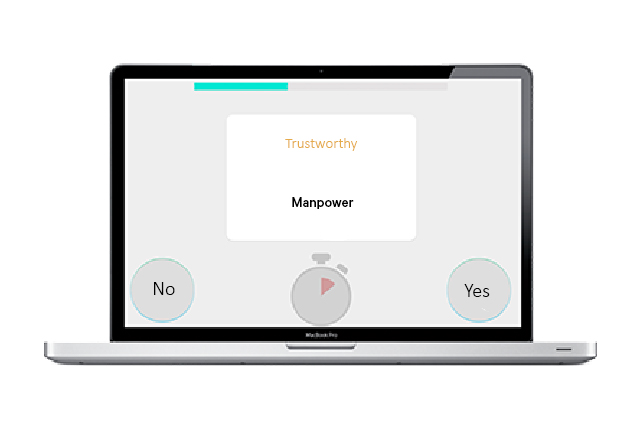 People find it difficult to predict their own behaviour, because they are often unaware about the causes of their behaviour. For example, consider people who want to quit smoking. They really do want to quit and even believe that they will succeed, yet they often fail.
We're often not aware of the influences on our behaviour, that's why it's important to measure the unconscious influence. Therefore, we specifically looked for the unconscious associations that both switchers and sleepers have related to switching. This can be measured using RIAT (Rapid Implicit Association Test).
RIAT is a test presented on the laptop. Test participants are shown randomised associations during the test. They have to response if the associations are fitting with switching, under time pressure. The time pressure is essential here, as it prevents participants from thinking too long about the answers. By doing so, we can obtain unfiltered responses, which create stronger memory traces and are closer to the truth.
Results
The 3 associations that predict if sleepers will switch to another energy supplier are:
Despite the fact that these associations are well-established in the minds of sleepers, they failed to switch. Therefore, these associations don't contribute strongly to switching behaviour.
The most important associations that are activated among switchers are:
This is interesting. Besides saving, carefree and easy are important associations for switchers. These two associations are absent in the minds of sleepers when they think about switching. Therefore, these associations have to be activated among sleepers to make behavioural change possible.


Advice to iChoosr
Sleepers associate switching with saving, while switchers associate switching with saving but also carefree convenience. Ease is therefore the missing association for the sleepers.

The advice to iChoosr was to focus their communication on both ease of switching and on saving, in order to wake the sleepers towards switching energy supplier.